Exeter Phoenix Scratch

2nd Life COMMISSION #2: Viral Duets
Devised and Performed by Pipsi Bracken (a.k.a. Niki McCretton)


Niki McCretton being calibrated in the motion capture suite at N.C.C.A.

Monday 18 February 2008 (2-5pm & 7-10pm GMT) @ Exeter Phoenix only:
Individual 20-minute Second Life tutorials, followed by 20-minute encounters with Pipsi in the basement of Exeter Phoenix. The encounters were relayed to the public screen in the Exeter Phoenix bar.

Tuesday 19 February 2008 (2-5pm & 7-10pm GMT) in world only:
Individual 20-minute encounters with Pipsi, attended by avatars from far and wide.

Phoenix Scratch in Second Life commissioned performance artist Niki McCretton to create a series of one-to-one, spontaneous, movement-based performances in a specially constructed virtual dome on the Second Life island of Diecicento. Avatars were given tools to take away and encouraged to recreate the performance with other avatars, spreading their duets like viruses through SL. Niki drew on motion capture technology, working with animators Susan Sloan and Adam Vanner from the National Centre for Computer Animation at Bournemouth University.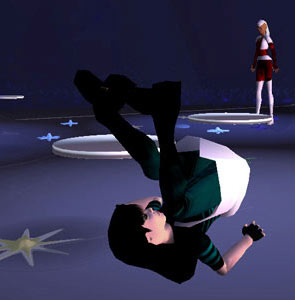 View images here
Read Dizzy Banjo's blog
Read Strawberry Singh's blog
More images, video clips, chat logs from the making process, etc. will be available soon.
If you have the Second Life software installed on your computer, then click here to visit the performance space, test out the animations (it's best to visit the space with another avatar), take away your own 'Goodie Bag' containing the animations and instructions how to use them, and spread your choreography like a virus through SL.